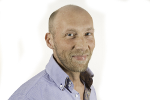 Arnaud de Klerk | Independent consultant
Freelance IT consultant & Project leader
Antwerp Area, Belgium | Information Technology and Services
Summary
I'm an independent IT generalist with firm technical, analytical and organizational skills. I'm available for projects in medium sized companies, requiring academic level and a dedicated attitude:
– Advice to the board regarding IT investments and policy.
– Project management of software development or IT implementation projects
– IT team lead
– Conceptual and technical software design
– Development of tailor made software
More info about me? Please visit my professional website: www.arnauddeklerk.nl
Specialties: I specialize in solutions for knowledge intensive environments like consultancy companies and universities.
Experience
Independent IT Consultant (2009 – Present)
Self employed
As an independent consultant I offer services regarding IT (project) management and software development.
Group leader forensic psychiatry (parttime) (2010 – 2013)
FPC2Landen
Social work and maintaining security at 6 departments with 10 patients each.
Consultant (2008 – 2009)
Ecofys
Privately Held, 201-500 employees, Renewables & Environment
Leading projects concerning development of internal and external software. Most projects are related to modelling of energy, CO2 and cost-effectiveness of measures.
project leader (2004 – 2008)
IKM Engineering
Privately Held, 11-50 employees, Computer Software
Leading projects regarding the development of advanced calculation software, most of them ordered by consultancy companies in the field of real estate and civil engineering.
programmer/analyst (2002 – 2004)
SCOPE marketing technology b.v.
Privately Held, 11-50 employees, Computer Software
Various activities at the Customer Development department of this CRM company: programming, writing designs, teaching technical courses.
Volunteer Experiences
Teacher of computer classes (2003 – 2007)
Altrecht
Social Services
Teaching basic computer skills to groups of psychiatric patients.
Skills & Expertise
IT Strategy, IT Management, Software Development, Software Project Management, Software Design, Information Analysis, Programming, .NET, PHP, SQL, HTML, MySQL, SQL Server, Magento, Yii, ORM, Subversion, User Interface Design, E-commerce, Hibernate, JavaSE, Entity Framework, Web Services, System Architecture, Java, UML, Object Oriented Software, Delphi, Google Merchant Center, Google Adwords, Google Analytics, Building Energy Modeling, Energy Modelling, CRM, IT Infrastructure Management, IT Infrastructure Design
Languages
Spanish
Catalan
English
Dutch
Education
Open Universiteit Nederland (2003 – 2010)
Bachelor's Degree, Psychology
Utrecht University (1991 – 1997)
Master's Degree, Meteorology & Physical Oceanography
The master study Meteorology & Physical Oceanography is a direction of specialization within the faculty of Physics and Astronomy.
Alkwin Kollege (1986 – 1991)
,
Recommendations
Arnauds judgements and advices are based on both sound thinking and lots of years of experience. He presents his view in a convincing way and his approach of the subject is efficient and effective. His optimism and humor contributes to effective teamwork. With Arnaud on the job you get someone who can translate customers wishes into concrete products and services.